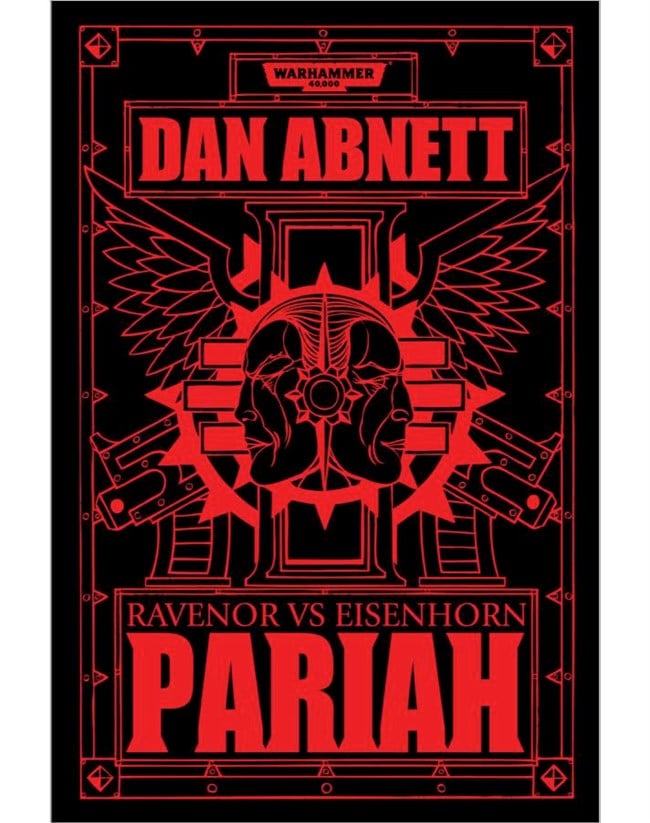 Friday I decided to give myself a little treat and purchased a copy of Pariah from GW Göteborg. Since buying my Kindle I haven't bought a physical book, but I figured that since I have all the Eisenhorn and Ravenor books in hardback already it would be wrong not to continue the collection. But I must say that even that decision was a tough one for me as Pariah is only 300 pages long, quite large print, and it really did smack me that Black Library have gone down the route I feared and discussed regarding the release of Angel
Exterminatus in hardback.
I finished Pariah in essentially three two(ish) hour sittings. That is not a lot of book for 200 kronor. I hate to say but I feel I wasted my money and I should have just waited for it to appear on TPB. But what is done is done, now onto the review proper...
WARNING THE FOLLOWING BLOG POST CONTAINS SPOILERS
Right lets get to the meat and bones of the book. The book follows events from the point of view of a young woman called Alizebeth 'Beta' Bequin.... yes that is the name of the famous Pariah from the original Eisenhorn series. But how is she up and about? Last we read about her she was in a coma in the care of Ravenor after helping to destroy the Cruor Vult. So what is going on? More so she is a teenager, and orphan and is in training at a secret Ordos school. This is not the back story we know. Clearly this is a different Alizebeth Bequin, mmmm interesting. Abnett then quickly introduces a number of members of this training facility and moves swiftly to an encounter with someone who is believed to be a member of the
Cognitae - everyone's favourite heretical shadow organisation.
It was, however from here that the book began it's downward spiral of disappointment...
The original Eisenhorn and Ravenor books are great little detective stories that have a lot of twists and intrigue that keeps the reader guessing. However this time round it became glaringly obvious that the 'big plot twist' was going to be that this Beta Bequin was some kind of clone and the training school was run by the Cognitae. That took me less than 30 pages to work out and it wasn't even like I was trying to pre-guess where the story was going. It just screamed out of the pages far too obviously for my taste. So when the school gets hit 'by heretics', and a mysterious floating gav chair, and a telekine called Patience start kicking ass, I was not surprised or excited by their appearance. All I had being wondering up to that point whether it was going to be Eisenhorn or Ravenor who Abnett brought in first.
Dissapointment
From this point forwards we are led of a merry little dance of random, weakly linked encounters with a whole plefora of characters from other Cognitae Pariahs, to dezines of Queen Mab (the city the story is based in), dealers in heretical goods, corrupt local
Ecclesiarchy dabbling with enuncia (so a nod to the Ravenor trilogy), Word Bearers and Emperors Children (now a nod to the early Eisenhorn books), a progeny of Pontius Glaw (more Eisenhorn), and then a whole troop of our favourite characters from both Inquisitors retinues including an 'surprise' appearance of Cherubael (well everyone else had already shown up so I wasn't really surprised).
This is my biggest complaint of the book. Too many characters and a constant stream of action encounters to introduce them into the story within what is frankly too few pages meant the the book ended up suffering from what I term 'the X-Men/Spiderman' syndrome. Aka too many characters and insufficient attention given to flesh them out or properly bring them into the story.
Too much of a good thing = crash and burn?
It was all too convenient and it just felt like Beta was jumping from encounter scene to encounter scene, with some little action during each one, but next to no real substance. Even what would have been the 2 big plot finales; Beta being recruited by Eisenhorn takes all of 2 pages and she is just happily (almost skipping and dancing) proposes to join him and continue the to act as a Cognitae (double) agent to further Eisenhorn's plans. Then 2 pages later she is captured by Ravenor and he spends another page or 2 decrying Eisenhorn and labelling him a heretic (so much for the immensely complex relationship between the 2 inquisitors, former friends, present rivals). Then a page later Cherubael appears in what is meant to be a huge cliff hanger - 'dun dun dun' moment to close the book, but all I was left feeling was 'is that it?'
Sorry Mr Abnett but I have to say I am thoroughly disappointed with this book. Too much crammed into too little space really wasted the whole experience for me. A feeling which brings me back, and validates the point I made a few months ago Black Library has followed GW down the road of less content and more cash = bigger profits, regardless of the effect on quality of experience for the customer. All I am left feeling now is that I wonder how I could get my money back as I feel nothing other than I have wasted 200 kronor and a few hours over the weekend. Sad times indeed :-(