It has been over 2 weeks since the dust settled on the 3rd ever Caledonia Uprising. So first off sorry it has taken me longer than usual to get these batreps written as I have been manic busy back over here in Sweden - have been shouted at by several people for the lack of blog posting of late...
Despite a small amount of snow some 80+ of the 90ish players made the journey from far and wide to Maelstrom... sorry Maunsfeld... for the weekends gaming. This included a whole convey of Scots from Glasgow and Aberdeen who managed to make it down even when people who live a short drive away didn't (yes Princess Ryland I mean you).
Friday night saw the first ever Cally Open; a small free to enter warm up event of 3 games of 500pts doubles. I teamed up with Mysterious Bob and we rocked a very silly Guard and Guard combo that had zero anti flyer weapons... in-fact it was as unoptimised as you can possible get. Despite not rocking the standard 6th Ed cheese that everyone else was we still managed to take a mid table placing on a win, draw and loss. I would go into the battles in more detail but my mind was a blur that evening due to too much Ginger Beard and too little sleep. I shall instead direct you to the sexy ass photo of me and Bob and leave it at that.
Me & Bob = Team in the Verge!
Right onto the main event - Caledonia 2013 and the team Scotland qualifying.
I managed to beg and borrow a Grey Knight / Necron combo from various friends and in the end was rocking the following list:

Neil's Necron-Knights


Overlord with Warscythe, 2+ Save and Mindshackle
3x5 Warriors + 3 Night Scythes
2x Annhilation Barges
Draigo
10 Paladins with 4 Master Crafted Psycannons, Banner, Apothecary, Stave and Psybolts
Yes it is a small army to say the least. But the plan was to basically present a rock of Paladins that, in theory, people will not be as well kitted out to deal with since the meta shift to Wraiths, Nids and Daemons. Whereas the Paladins themselves are quite good at dealing with the above, with a little help from their Necron allies for fire support and objective grabbing.
I am going to keep the batreps short because in all honesty all 5 of my games pretty much went the same way (once I remembered the rules for 6th Ed) because this army can really only be played one way.

I thought no-one else used
Grey Knights in 6th Ed?
Game 1 vs Gary Morgan - Grey Knights
Coteaz, 10 Purifiers with 4 Psycannons, 10 Strikes with 2 Psycannons, 4x3 Acyolytes & 1 Banisher + 4x Psybolt Razorbacks, 10 Interceptors with 2 Psycannons, x3 Psybolt Rifle Dreads, Aegis with Quad Gun.
Gary is an accomplished member of Team Wales and so whilst he was running a somewhat 5th Ed style of list I knew I was going to be in for a tough match. We were playing diagonal deployment and the mission with 5 objectives of variable values. I went first deploying my Paladins and 2 Annihilation Barges behind a hill that would give me fire lanes across the board to him whilst cutting out the return angles for his whole army. Gary essentially lined up his veritable gun line behind his Aegis opposite my forces.
halberds ARE only ap3 in 6th...
This was to be a game plagued by utter incompetence and stupid ass mistakes by myself throughout - Gary was very patient with me to say the least. Lack of sleep for the past 2 nights certainly took its toll where I forgot 6th Ed fundamentals, the biggest being that Halberds are only Ap3 now and so my Paladins would have relatively little to fear in assault. As it was though I forgot this and more. Which meant that I essentially played a stand off gun fight with Gary's superior numbers, instead of marching straight into his army and beating face. A gun fight was was never going to end well given the number of units in his army meant I would never kill them all. Couple into that the fact that Gary very much knows what he was doing and I was pretty much on the back foot from the word go. In the end the game was decided by a single interceptor contesting my 4pt objective and so giving Gary the win. Truth be told though he should have punished me much more for my incompetence.
Lessons learned: Know your rules and your army before you start playing in a tournament, and make sure you get more than 8 hours sleep in the 2 nights before combined.

What!?! More Grey Knights!?!
Game 2 vs Ben Whitnall - Grey Knights
Coteaz, Grandmaster, 5 Terminators with Psycannon, 2x10 Strikes with 2 Psycannons, 10 Interceptors with 2 Psycannons, Storm Raven with Hurricane Bolters and Psybolts, Dreadknight with Teleporter and Incinerator, Aegis with Quad Gun
Ben is actually one of kids from back in the day when I played as part of Flame On in the Manchester store. Time has moved on and the 13 year old boy has gotten taller and his voice a lot deeper. His army building skills have progressed as well; it would seem that his much loved but much abused Marines had been dumped for some standard and solid Grey Knight Infantry spam. Which would make it round 2 for my Paladins but at least by this time I had remembered the 6th Ed rules for Power Weapons and their AP...
They are in Relic of Emperor's Will...
The mission was the Relic plus Emperor's Will; 2 missions which IMO shouldn't be in the rulebook because of how easily deathstars can win them... deathstars like my Paladins. In this case I chose Scout as Draigo's Grand Strategy, scouted the Paladins up 6", moved 6" in the movement phase to take the Relic, and then shot up his quad gun with my psycannons and stormbolters. Basically from here on there was next to nothing Ben could do to take the relic; I just moved back 6" each turn with it until I had bubble wrapped my home objective. Then it was just a case of dropping one Warrior squad off to claim my home base, whilst the other 2 went into corner furthest from Ben's main force to take linebreaker. Obviously more happened in the game, but the crux was I had a deathstar and got to the relic first so there was nothing Ben could do to stop me unless he could wipe out the Paladins to a man before the games end.
Lessons learned: As I said at the start these 2 missions should not be used in tournament play as it is too easy to win with a deathstar.

At last!!! Something other
than Grey Knights...
Game 3 vs Chris Dickinson - Tyranids
x2 Flying Hive Tyrants with Devourers, 2x10 Ygrmal Stealers, Doom & Mycetic Spore, x2 Tervigons, 2x10 Termagants, x2 Carnifex's with Devourers.
Chris is part of the Dickinson clan; a family of accomplished tournament gamers from Nottingham. Chris's list was going to be a real nightmare for me to beat due to all its scoring units and super tough TMCs apart from one small fact; the mission were were playing was Kill Points. Which totally turned things round and basically meant that Chris was going to be on the back foot all day as my army is low in kill points and generally made up of things Nids find hard to kill (Paladins, flyers and AV13).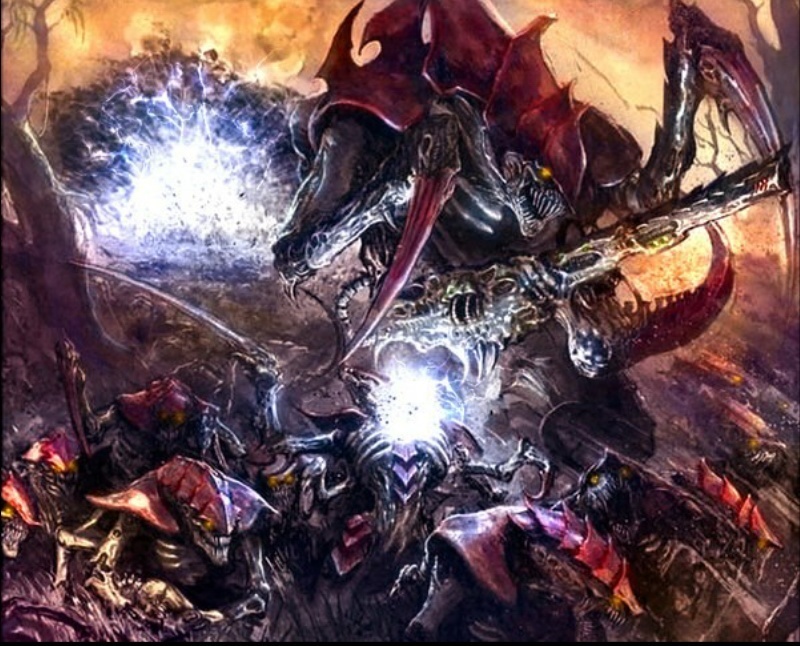 Artists impression of my Paladins shooting up Chris's Nids
Once again the army I took decided the game pretty much before it began, and also made it quite a boring one (sorry again Chris). Essentially Chris tried to Alpha my barges and line himself up to pour everything he possible had into my Paladins. However the barges somehow survived, shot up the Ygmarl Stealers and grounded the Hive Tyrants with Telsa leap. Which then saw one of them get shot to pieces by the Paladins. Chris was straight onto the back foot again and things went worse when the Doom scattered a mile off target putting him out of position to do any damage with this Soul-Sucking, but in range of the Paladins. He got shot, and over the next few rounds so did the second Flying Tyrant and any of Chris's Termagants that the Flyers could catch in the open. Another win to the Paladin's but unfortunately another rather 1 dimensional game.
Lessons learned: Remember that Ygmarl Stealers can charge after appearing; I should have lost both barges to that mistake in turn 1 but was very lucky not to.

Draigo says; "stay off
the warp-dust kids!"
Right that is enough from me for one day. I will get the final 2 days games written up Friday or Saturday; these 2 games are actually quite funny and ridiculous to boot (thank god else I might have lost the will to live because of how boring my army had being to play with so far). So until then take care and stay frosty - I know I will; it is bloody freezing here.